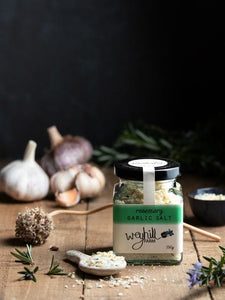 Sunday roasts love Rosemary Garlic Salt. An aromatic blend of fresh farm grown rosemary, garlic and Australian sea salt it adds a flavour hit to anything you're roasting. Add to veg going into the oven, crispy potatoes coming out and season any just about any beast you're carving up. It's a great all-rounder.
All of our salts come in generous jars because we know you'll love using them.
INGREDIENTS: Garlic, Australian sea salt and rosemary.