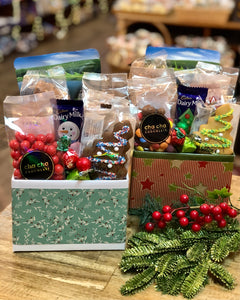 Enjoy a Sweet & Savoury Christmas!
Our $50 Christmas Macadamia boxes are one of our biggest selling gift hampers in the Chocolate Shop at Christmas. They cater to all sweet and savoury lovers!
These hampers include a bag of Australia Macadamias, 6 packets of our most popular choices of confectionery, a Cadbury Novelty Bar, Christensen's Gingerbread, Pink Lady Soft Centres and Chocolate Ball. 
Here are a few varieties to give you an idea of the selection we use in these hampers:
• Chocolate Honeycomb
• Caramel Popcorn 
• Allens Lolly Mix
• Chocolate Coated Raspberries
• Smarties
• Movie Mix
• Freckles
• Jaffas
• Jersey Caramels
• Peanut Brittle
• Licorice
Displayed in a gorgeous glossy gift box with cellophane and satin bow.
If this item needs to be shipped we will display these in a flat cardboard tray with ribbon. 
• Please be advised if any products are unavailable at the time of order, they will be substituted for another similar product of the same value.